This extremely large format camera was constructed as part of World Pinhole Day organized by Ace Art Inc.
It is built to support 4ft by 5ft positive prints.
Operated form inside artist can photogenically paint the scene before overlaying a photographic print using liquid emulsion. (The above image was taken inside the camera)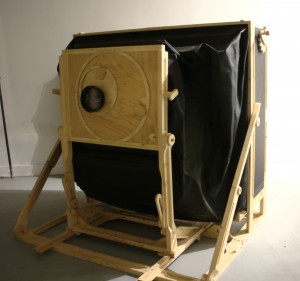 With the addition of much larger lens the camera was put into full operation in the winter of 2010-11.
A selection of the images created with this camera are found below.
Click here to view a selection of the generated images …